Polarimeter PolartronicV 201 SC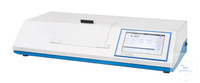 The picture may be different from the article and can include supply, which is not in the standard scope.
Order-No.: 16245
Price on request
for 1 piece
Polarimeter Polartronic V 201 SC
New improved hardware for faster operation
Large 7" conductive touch screen
Ready to deploy "Aquisys 3" operating system offering industrial standard interfaces and internal 21 CFR Part 11 software
For checking the
calibration
of our polarimeters we recommend to use long-term stable
quartz control plates
(QCP). The
sample room
of Schmidt+Haensch polarimeter permits the v
ertical movement of quartz control plates as well as the free rotation (±360°) around their own axis.
Only by a rotation it is possible
to check if the plates are mounted without strain
and permit an examination of the polarimeter according to processing regulations of international standards like ICUMSA and OIML.  
Customs Tariff Item:   9027 5000 EU
Country of Origin:   Federal republic of Germany  
Measuring range                      ± 360° ± 259°Z
Resolution                               0.001° / 0.01°Z
Precision                                ± 0.005° / ± 0,015°Z*                                                  
Repeatability                           ± 0.001°  / ± 0.01 °Z
Sensitivity                               Up to OD 3.0
Measuring tubes                      50 / 100 / 200 mm / T-Cell
Light source                             LED / life time warranty
Wavelengths                            1 fixed wavelength: 589 nm standard, others on request
Temperature resolution              0.01°C
Temperature precision               ± 0.03°C
Temperature correction              Automatic with appropriate tubes with temperature sensor
Display                                    7" TFT touch screen, 800 x 480 pixel, 16 bit colours
Operation                                 Touch screen
Interfaces                                 RS232 (1x), USB A (4x), USB B (1x), Ethernet (1x), W-LAN optional  
* Standard Conditions (20 °C / 589.3 nmair /  589.44 nmvac)
more
(-) Technical data:
Product type description:
Polartronic M 100 Touch