Tall acid/base cabinet, w600, h1900, d515, 2 doors, right, 4 drawers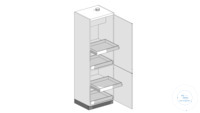 The picture may be different from the article and can include supply, which is not in the standard scope.
Order-No.: 37700004
Price on request
for 1 piece
Acid/base cabinet for storing acids and bases at your workstation. Material: polypropylene Colour: arctic white Width: 600 mm Height: 1920 mm Depth: 520 mm Right-hinged door, 2 doors, with locking facility Features: 4 liquid-tight, welded trays for chemical bottles(PP) 1 fan, 230V/50Hz, (D,F), with operating display The acid and bleach cabinet comes with a DN 75 exhaust air port and must be connected to an exhaust duct. Observe the recommended exhaust flow rate when installing. Chemical cabinets are not suitable for storing flammable or corrosive liquids.
more
(-) Technical data:
Color:
White
Width:
600 mm
Depth:
520 mm
Height:
1,92 m