Tall safety cabinet, 90min, w900, h1955, d615, 2 doors, 3 shelves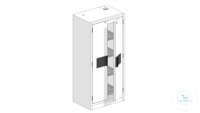 The picture may be different from the article and can include supply, which is not in the standard scope.
Order-No.: 37100003
Price on request
for 1 piece
Tall Safety cabinet flammable, harmful substances, certified to EN 14470-1 Type 90, Colour: arctic white Width: 900 mm Height: 1955 mm Depth: 615 mm Doors 2 hinged doors, stay open no matter what the angle of the door, close automatically in the event of a fire Features: 3 removable shelves, 1 base tray with perforated metal plate insert Safety lock Base can be easily accessed with a forklift Exhaust air port: DN 75 Weight: 343 kg Operate in accordance with TRbF 20 (Technical rules for flammable liquids) Annex L. We recommend the port in a exhaust system.
more
(-) Technical data:
Color:
White
Width:
900 mm
Depth:
615 mm
Height:
1,955 m