PCR cabinet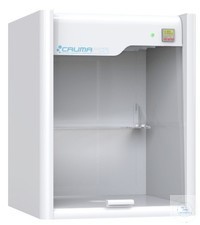 The picture may be different from the article and can include supply, which is not in the standard scope.
Order-No.: 102010114
Price on request
for 1 piece
The new PCR cabinet has been specifically designed for DNA carry-over blocking by using PCR technique (Polymerase Chain Reaction).
The three UV tubes and the inclusion of a timer allow the total sterilization of the material inside the chamber as well as of the whole working surface preventing possible cross- contamination of DNA and ARN samples, that can determine false positive test results. The 4mm tempered glass works as a filter to UV radiation therefore protecting the operator and the environment. In case of accidental front door opening, UV lamps are automatically disconnected to guarantee total protection of the operator.
Cutting edge solution inside and outside has designed an innovative cabinet different from the ones on the market whichrepresent a new concept for lab equipment. The new PCR cabinet combines the comfort of a working area with a environment friendly design. It is made one body and plug & play operation, so start working with it, it's a matter of minutes.  
Technische Daten

Model
Class
Internal sizes ( W/D/H )
External sizes
Front opening height
Filter
LED lighting
UV lamp
Voltage-periods
Cabinet intreior volume
Weight
Total power consumption


PCR
DNA / RNA Extraktion
550 x 600 x 606
600 x 603 x 772
280 mm
ohne
900Lux / Led 16 W
3 x 15 W
110-220 V / 50-60 Hz
0,199m3
60 Kg
63 W
 
more
Assortment:

LAT

Article-No:

102010114

Validity:

31.12.2020

Last Update:

10.06.2020