Vacuum pump/ compressor AirJet Mini, PTFE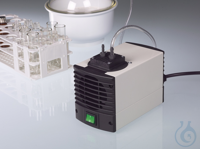 The picture may be different from the article and can include supply, which is not in the standard scope.
Order-No.: 56252001
Price on request
for 1 piece
The AirJet Mini single-head membrane vacuum pump is suitable for a variety of applications in the laboratory and industry. The dry running membrane vacuum pump is able to pump, compact and evacuate 100 % oil-free, which means it does not distort results or add impurities, and can also be used as a compressor.
The AirJet Mini is used to pump and evacuate air and neutral or slightly aggressive or corrosive gases and vapours.
The membrane features a long service life and is available in two versions, EPDM for general applications and PTFE-coated for special applications.

Weight 1.9 kg, dimensions LxWxH 164/90/141 mm

Hose connection ID 4 mm

Maintenance-free, environmentally friendly

High level of gas tightness

Very quiet with low vibrations

Attention! Make sure to pay attention to the "List of Chemical Resistance"!
more
(-) Technical data:
Asepsis:
No
Assortment:

Bürkle

Article-No:

5625-2001

Validity:

31.01.2021

Last Update:

31.01.2020