PT Wägebrücke 1500 x 1500mm PT Wägebrücke 1000kg/0,2kg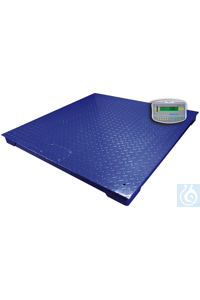 The picture may be different from the article and can include supply, which is not in the standard scope.
Order-No.: PT115GK
Price on request
for 1 piece
Robuste Bauweise, die auch für Anwendungen im Industriebereich geeignet ist. Geriffelte Oberfläche für zusätzlichen Halt. Etwa 3 Meter langes, abgeschirmtes Kabel. Optionale Rampen für leichtes Be- und Entladen.Wird mit Adam Anzeigegerät GK geliefert.
(-) Technical data:
Resolution:
200 g
Gauging option:
No
Battery operation:
No
EAN Code:
0819309014973
Type of output signal:
RS 232
Assortment:

AE Adam

Article-No:

PT 115 GK

Index:

Platform scale

Validity:

31.12.2020

Last Update:

12.05.2020