VIP Freezer MDF-C8V1-PE (-80°C,) ​volume: 84 liter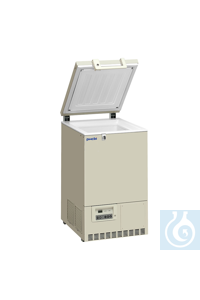 The picture may be different from the article and can include supply, which is not in the standard scope.
Order-No.: MDFC8V1PE
Price on request
for 1 piece


The actual price may differ
VIP Freezer MDF-C8V1-PE (-80°C)
volume: 84 liter

The MDF-C8V1-PE VIP Ultra Low Temperature Freezer is ideal -80°C freezing environment using VIP PLUS technology maximizes storage capacity. The newly developed single-compressor system achieves higher energy efficiency and space saving construction.

PHCbi's most advanced insulation system VIP PLUS for Ultra Low Temperature Freezers enables reduced thickness of insulation to approximately one half compared to conventional systems. Patented revolutionary vacuum insulation cabinet construction reduces wall thickness and achieves greater storage capacity.

Use of VIP PLUS material on the front, left, and right sides enables a smaller installation space with exceptional storage capacity to foot print ratio.
more
(-) Technical data:
Nominal volume:
84 l
Minimum operating temperature:
-80 °C
Maximum operating temperature:
-60 °C
Width of workspace:
405 mm
Height of workspace:
425 mm
Depth of the workspace:
490 mm
Width:
550 mm
Depth:
685 mm
Height:
945 mm