ULT U100 Upright freezer, 93,9 l., -60°C to -86°C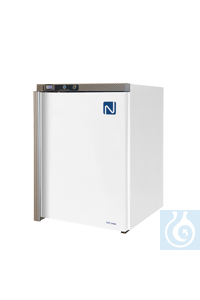 The picture may be different from the article and can include supply, which is not in the standard scope.
Order-No.: N123001
Price on request
for 1 piece
Personal freezer for easy access and daily use in laboratories, hospitals or anywhere scientific research and storage of sensitive samples is required – e.g. viruses, bacteria, cell preparations and tissue samples. Optimal footprint and second-to-none use of space. Easy installation – the freezer can go through all standard doors. In combination with a low weight, it is also very easy to move around. Low cost of ownership due to very limited maintenance, on-site service and low power consumption.
more
(-) Technical data:
Product type description:
Upright Freezer
Construction type:
Upright
Nominal volume:
93,9 l
Minimum operating temperature:
-60 °C
Maximum operating temperature:
-86 °C
Width of workspace:
430 mm
Height of workspace:
630 mm
Depth of the workspace:
420 mm
Power input:
5,82 W
Voltage supply:
230 V AC
Width:
600 mm
Depth:
700 mm
Height:
830 mm